Our Founder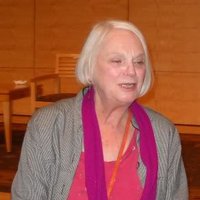 Photo of Geri Digiorno (Diane diPrima)
"Her life is the stuff of literary gold, but it would be fifty years before Geri Digiorno would start publishing poetry about it. Since then, Sonoma County's newest poet laureate has put out three books of her work, including one she hand-stitched herself.
"Her "White Lipstick" ($12.95, Red Hen Press), was published recently. Digiorno's spare, direct style has earned the praise of people like late California Poet Laureate Al Young, who recommended "White Lipstick" in the literary journal Ploughshares:
"With these pages — sparsely worded, richly lived — Geri Digiorno reminds us how entangled the delicate roots and tendrils of family and 'individual' identity can become," he wrote."
—SFGate
Poems by Geri Digiorno
one year later
one year later
I will be living
in a home for
unwed mothers
in Oakland
right there in black and white
I am fifteen years old
standing between
dorothy hardy and
john luhring
jim cancella behind us
in a light suit and tie
a mouth full of teeth
like a cold breeze
joan is wearing a white
two-piece dress
with matching heels
her lips open
marilyn monroe style
albino curls oppose
her bony features
dorothy's dress
sweeps away behind her
outlining heavy legs
thick brown locks
cut short
surround her dimples
I'm the only one
not smiling
dark blondness falls
across my cheeks
my eyes tumble
to the ground
diploma tightly held
in both hands
***
i'm one of them
i was baptized at sixteen
in my sister mona's white
two piece bathing suit
and white flannel night gown
laid back onto the water by two men
in alabaster suits
holding my nose
while they prayed over me
pushed me down underneath the coolness
till I came up saved
***
i believe
in my self
light rain
sudden storms
the moon
polenta and sausage
good sex
red sunsets
a perfect martini
the stars
true love
monet's garden
cracked crab
long baths
soft jazz
a walk on the beach
and root beer floats
i believe
in quiet mornings
the ocean
slow dancing
the back of a man's neck
fred astaire tapping across the screen
the magic of the sacramento delta
stone angels in italian cemeteries
growing your own tomatoes
paul newman's eyes
that writing poetry is telling the truth
ironing is therapy
kissing is an art
and dusting is a waste of time
(from "White Lipstick" (Red Hen Press, 2005),
© Geri Digiorno)
Links
Articles About Geri Digiorno — SFGate, Press-Democrat
"White Lipstick" Chapbook – Purchase here.